Posts for: March, 2018
By ClearWave Dental
March 30, 2018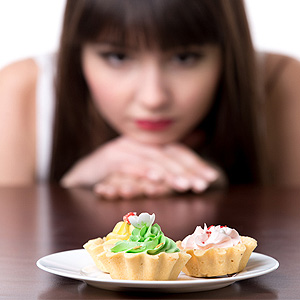 We've waged war for decades against tooth decay through oral hygiene and the increasing use of fluoride, nature's "super weapon" against this disease. And yet, tooth decay remains a significant health problem.
One major reason is refined sugar found in many processed foods. In the 1970s researchers raised concerns about the fat content of many processed foods, so manufacturers began removing fat from their products — along with much of the flavor. To compensate, they added sugar. Today, three-quarters of approximately 600,000 food products contain sugar.
This has increased average individual consumption to 90 pounds of sugar annually. The World Health Organization says we should consume no more than 20 pounds annually, or about 6 teaspoons a day. A single can of soda contains 4 teaspoons, two-thirds of the daily allowance.
High sugar consumption is an obvious threat to dental health: decay-causing bacteria thrive on it. But the trend has also been linked to serious health problems like diabetes and heart disease.
Hopefully, changes in public policy will one day modify the addition of sugar in processed foods. In the meantime, you can take action for yourself and your family to create a more healthy relationship with this popular carbohydrate.
Shop wisely. Learn to read and understand food labels: steer clear of those containing sugar or large numbers of ingredients. Become acquainted with sugar's many other "names" like corn syrup or evaporated cane juice. And maximize your shopping on a store's outer perimeters where you'll find fresh fruits, vegetables and dairy products, rather than the middle aisles with "boxed" processed items.
Avoid sugar-added drinks. Limit consumption of sodas, sports drinks, sweet teas or even juice to avoid added sugar. Make water or sugar-free beverages your go-to drinks. It's much better to eat sugar naturally found in fresh fruits and vegetables, where fiber helps slow it's absorption in the body, than to drink it.
Exercise. Depending on your condition, physical exertion is good for your overall health. It's especially beneficial for your body's ability to metabolize sugar. So with your doctor's advice, exert your body every day.
It's important to engender a proper relationship with sugar — a little can go a long way. Putting sugar in its rightful place can help you avoid tooth decay and increase your chances of greater overall health.
If you would like more information on sugar's impact on dental and general health, please contact us or schedule an appointment for a consultation. You can also learn more about this topic by reading the Dear Doctor magazine article "The Bitter Truth About Sugar."
By ClearWave Dental
March 15, 2018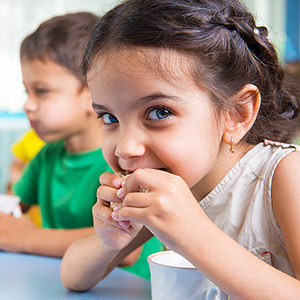 Good nutrition is essential for your child's developing teeth and gums as well as the rest of their body. You do what you can to provide them not just nutritious meals but also healthy snacks for other times of the day.
But once they begin school, you can't watch out for them all the time. They could be away several hours where they might be tempted to make unhealthy snack choices.
What can you do to lessen their chances of unhealthy snacking at school?
Engage with the school and their snack offerings. A set of U.S. Department of Agriculture regulatory guidelines called Smart Snacks in Schools sets minimum nutritional standards for snacks offered on school grounds. These guidelines promote whole grains, fruits, vegetables and low-fat dairy products and limit calories, fat, salt and, of particular importance to dental health, sugar. The guidelines, though, are only a minimum, so join with other parents to encourage your school to exceed those snack nutrition minimums whenever possible.
Educate your child about nutrition. Good nutrition starts at home: it's important not only to offer wholesome foods but to also teach your child why some foods are better for their body (and their teeth) than others. By encouraging a lifestyle of healthy eating both in practice and knowledge, you'll find it easier to set limits on their snack choices away from home.
Send snacks with them to school. If you're unsure your child will make the right choices, especially if they're young, than send snacks with them to school. Be sure, though, what you're sending is as appealing as the school choices. Try a little creativity: popcorn with a zing of cinnamon or cheese; decorative snacks; or easy to eat bite-sized fruit or vegetables. The more they like what you're sending, the less likely they'll choose something else.
In some ways snacking could be the Achilles' heel in providing your child the right foods for good dental health. By following the tips above, though, you can help raise the chances they'll eat the best snacks for strong teeth and gums.
If you would like more information on nutrition and dental health, please contact us or schedule an appointment for a consultation. You can also learn more about this topic by reading the Dear Doctor magazine article "Snacking at School."