Posts for: November, 2018
By ClearWave Dental
November 20, 2018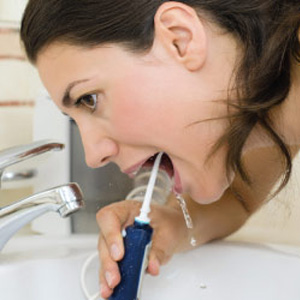 Though you don't like to admit it, you don't floss very often. Oh sure, you know it's important to remove the film of bacteria and food particles called plaque that builds up between and on your teeth. And you know you should do it every day.
It's just that, well… you're not very good at using dental floss.
While it's effective, dental floss takes some technique to hold it with your fingers and work it between your teeth. It can be hard for people to get the hang of it — and some aren't physically able or have obstacles like braces that make it harder.
There is a solution: an oral irrigator. Available for home use for decades, these devices deliver pulsating water at high pressure through a handheld device that looks like a power toothbrush. The water flows through a special tip to loosen and flush out plaque from between teeth.
You may have encountered oral irrigation during dental visits. They're a regular part of dental cleanings especially for treatment of periodontal (gum) disease. Because gum tissue weakened by disease may gradually separate from the teeth, large voids or gaps called periodontal pockets can form. These pockets can become further infected and accumulate plaque and calculus (hardened plaque deposits) that can also extend to the roots. Oral irrigation is a way to remove much of the plaque from these hard to reach places.
Oral irrigators have also proven effective for orthodontic patients whose brace hardware inhibits regular dental floss. A 2008 study, for example, found orthodontic patients were able to remove five times as much plaque with an oral irrigator as those who used only a manual toothbrush.
If you're simply looking for an effective alternative to dental floss, an oral irrigator is a good choice. We can help choose the right model for you and give you tips on using it. Your goal is the same as if you were using dental floss — remove the plaque between your teeth to keep disease at bay and your smile healthy.
If you would like more information on flossing options, please contact us or schedule an appointment for a consultation. You can also learn more about this topic by reading the Dear Doctor magazine article "Cleaning Between Your Teeth."
By ClearWave Dental
November 10, 2018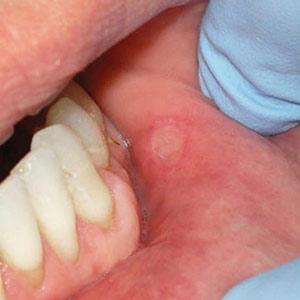 We've all had them — tiny sores that pop up seemingly out of nowhere under the tongue or the inside of the cheek. They're named aphthous ulcers, but are more commonly known as canker sores. For some people, they can be a recurring irritation.
Round with a yellow-gray center surrounded by reddened skin, aphthous ulcers seem to coincide with periods of anxiety or stress, or as a result of some minor trauma. Many people will feel a tingling or painful sensation a few hours or days before the ulcers appear. Once they appear they usually persist for a week to ten days before finally drying and healing. In the meantime they can be painful, especially while eating or drinking.
One form known as recurrent aphthous stomatitis (RAS) affects about a quarter of the population with outbreaks of multiple ulcers that occur regularly. RAS ulcers are usually one centimeter or more in size — the larger the sore the more painful they tend to be.
There are ways to ease the discomfort of an ulcer outbreak and help hasten their healing. A number of over-the-counter products can be used in minor cases to numb the area temporarily and cover it to facilitate healing. We can also apply steroids or inject other medications for more severe cases. You may also find curbing your eating of certain foods like tomato sauce, citrus or spicy dishes can help.
For the most part aphthous ulcers aren't dangerous. In some situations, though, you should seek dental or medical evaluation: a sore that doesn't heal within two weeks; increases in severity, frequency or duration of ulcers; or when you don't seem to ever be without an ulcer in your mouth. We may need to perform tests, including tissue biopsy, to make sure there aren't any underlying systemic conditions causing the ulcers.
More than likely, though, you'll only need relief from the aggravation caused by aphthous ulcers. Among the many remedies, there's one right for you.
If you would like more information on aphthous ulcers or other mouth sores, please contact us or schedule an appointment for a consultation. You can also learn more about this topic by reading the Dear Doctor magazine article "Mouth Sores."